Assault of the Leafcutter Ants? – Cabañas Yankuam, Ecuador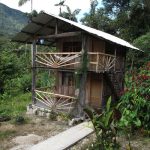 After watching leafcutter ants on Planet Earth, produced by the BBC, we enjoyed observing them hard at work when we stayed at Cabañas Yankuam in Ecuador. Located on the beautiful Nangaritza River in the jungle south of the village of Las Orquideas, this eco-lodge was the ideal place to study plants, birds, reptiles, and insects! Every moment was educational.
As much as I enjoyed watching and photographing them, my experience with the leafcutter ants became decidedly unpleasant. On our second day there, as I was crossing a small stream, I started to lose my balance and reached out to catch myself on a tree. OUCH!!! Sharp pain raced up my arm, bored into my armpit, bringing tears to my eyes. Was it a spiny tree? Nope. I had been bitten by one of the ants that I had been watching moments before. Jaws that can carve up a leaf in seconds seem to find human flesh much more yielding!
I apologized to the likely dead or dying ant and its kind. Despite my intentions to end any "ant karma", leafcutter ants seemed to seek me out from that day on. When we left three days later, my skin showed nearly ten bites, of which only the first was warranted.
Surprisingly, I may have discovered why in an article on Oprah.com about 10 Marvels of Our World – 10 Wonders of Our World. The author, Catherine DiBenedetto, pointed out that these ants build underground megalopolises in the humid climates of North and South America, perhaps as large as 700 square feet. She goes on to say, "Scientists refer to colonies like this as superorganisms because each worker is like a cell programmed to perform a specific task in an elegantly complicated system only Mother Nature could design."
Could it be that the ants are so connected that my killing of one ant became known among all similar workers? That I joined a list of enemies or predators? Not wanting to sound paranoid, I do believe something supernatural was going on for ants to race a foot or two just to bite me days later! It could not be a coincidence.