Cabañas Yankuam – Zamora, Ecuador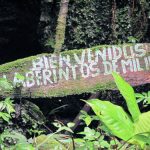 Without any doubt, this was our ultimate venture in Travel Gossip! And then some. We had wanted to visit the jungle in Ecuador but had not had the time plus we were not crazy about the guided tour approach that so many travelers had experienced. We prefer a more open schedule so that we can decide where to go, how long to stay, and what to spend time on.
In June 2009, we had intended to travel from Vilcabamba to Peru via the remote, alpine route through Jaén, Peru. As we were making arrangements, a couple from Belgium arrived from Peru and said theirs was the last bus allowed to travel because of a civil uprising. Sadly, it was a conflict in Bagua Grande between the indigenous people and the government over a decision by President Garcia to allow foreign companies to drill for oil and mine in territories that were supposedly closed to such development. Over two days, more than 50 lives were lost. Travelers were warned by the US government, Peru, and Ecuador to stay away. Out flight would leave from Lima in five weeks and we decided we had better spend as much time as necessary in Ecuador until we knew whether the confrontation would spread.
We stayed in Vilcabamba four more days and the situation did not change; no buses were leaving, the outlook was poor. The conflict was a serious one and would take quite some time to settle. Time to plan a different trip.
Le Rendezvous Hostel in Vilcabamba is one of those settings where guests easily connect and we spoke with everyone staying there, asking about their favorite destinations in Ecuador. While we knew we could return to delightful Cuenca, we were looking for something unusual. A German scientist mentioned an eco-lodge he had enjoyed that was in the jungle several hours from Zamora but he could not recall the exact name! With the help of a delightful jeweler we had met, we were able to track down a website for the eco-lodge. We connected with one of the principals and found that we were welcome to come that very weekend because a work party would be there. The eco-lodge was not open all the time but primarily by group reservation.
There was a slight problem: if we took the bus to Zamora and then on to Las Orquideas, we would need to hire a boat to take us the rest of the way! And it would have to travel in the dark. Not comfortable with that one! Another option was to pay to travel by car with the work crew. The rate was not that high and much simpler.
Once we agreed, we had to travel to Zamora, stay overnight, and catch the ride the next day. Here we were, going into an area we knew nothing about with people whose eco-lodge was so new that evaluations were not even found online! Well, we would be among the first to write about it!
Zamora was delightful, even though our hotel was not the best ever. The bed was one of the oldest we had encountered but the hotel staff members were cheerful and helpful. A partner in the eco-lodge wanted to meet with us to discuss the trip, which we took as a good sign. He was pleasant, matter of fact, and mostly wanted to know what we liked to eat andn drink. He spoke little English and was patient with our Spanish. All looked good.
We did not realize what a long and arduous trip it would be! We left around 5 with four people besides ourselves. No one seemed to be ready on time and it got later and later, meaning that we were traveling primarily at night! The further we went, the narrower the roads became, the fewer the lights, and the worse the driving conditions. Thank goodness for the Toyota van in good condition!
At one point, we were traveling through heavy mud, sliding as much as progressing ahead, a drop-off to the river on one side and a cliff on the other. Thank heavens that Carlos was an excellent driver! After a while, my mind got weird on me: what in the heck were we doing here with quite a bit of cash, in an unknown place, with complete strangers, nobody knew where we were, heading into the jungle at night??? For the first time ever in decades of travel, I began to experience anxiety. My heart started racing, a headache was coming on, and my stomach got upset. Not pleasant. I said a prayer for safety and ended it with, "Show me a sign that all is safe."
We came over a hill and the entire left horizon was filled with the Big Dipper! It was so close it seemed I could step onto a lower star. My jaw dropped and a smile came over my face. All was well. Better than well.
The weekend would turn out to be one of the best of our 100-day trip and our hosts were absolutely fabulous. More on that in the next post.
My trust in travel gossip was renewed. When our goals are clear, things have a way of working out just fine.
– Sandra
Cabañas Yankuam – Zamora, Ecuador
Yankuam Lodge | Facebook
Click on map for larger image
Labyrinth of the Thousand Illusions Cordillera del Condor, Zamora, Ecuador, Cabañas Yankuam
Well worth seeing!