Coffee Roasting with Jesús Bedoya – Salento, Colombia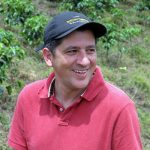 Because almost all of the quality coffee cultivated in Colombia is exported, the coffee Colombians drink is often roasted somewhere else and then imported! Ironically, it is the coffee they grew and sold to exporters. Sadly, it usually consists of the lowest-quality beans, the ones that did not meet the standards for sale to other countries.
As part of his vision to educate Colombians to drink the best coffee they grow, Jesús Bedoya roasts his own coffee, then sells whole bean or ground coffee commercially and in his shop. He keeps some of the best to brew for the customers of Café Jesús Martín. He invited Ildi Papp and me to watch him sort and roast a batch of coffee so that we could learn first hand all of the steps in the process.
The beans selected for roasting were very fresh, obtained that very day from a broker in Montenegro (see previous post). When Jesús announced he first had to sort the beans, I assumed this would be an automated process. Not so! It was completely manual.
First, the parchment was removed by sending the beans twice through a machine and manually winnowing them so that the parchment blew away. Next, he smelled and tasted the beans, a curious introspective expression on his face. Sitting under a bright light, his eyes shaded by his baseball hat, Jesús sorted the beans into three groups which he named: inferior (his own term), excelso, and caracol, also called peaberries. Caracol beans are smaller and fewer but are considered premium plus. The excelso bean, slightly smaller than the supremo and larger than the caracol, is what Jesús was looking for. Interestingly enough, all of these beans might have been picked from the same tree!
Due to its elevation and growing conditions, he is certain that the beans he selects believes will roast to become rich, dense, deliciously scented, the right color, and full flavored. Jesús intends the final product to be roasted so perfectly that they are way above typical quality. Mentioning several times that the major difference between him and other cultivators was that he did his own roasting and had his own espresso shop, a first in Quindío's extensive coffee-growing region.
Although he sorted quickly, the work seemed tedious to us. Because he typically roasts 13 pounds of coffee, the sorting took some time. As he worked, he said several times, "A unos grados de amor, el café toma un color coqueto, luego con su bella forma, pasa a ser un café especial, café molido con aroma … Ahí, justamente, se dispara en un acto de passion, a ser el cómplice de soñádores y eternos enamorados." I have no idea whether he was quoting someone or this was original but it is so beautiful! I will attempt a translation¸"At some degrees of love, the coffee takes an attractive color, then with its beautiful form, it comes to be a special coffee, and, once ground, full of aroma… Then, perfectly, rushes off in an act of passion, becoming the accomplice of dreamers and beloved eternities."
Once he finished the sorting, Jesús preheated the coffee roaster to 280 Celsius (536 Farenheit). After he places the bean in the roaster, he adjusts the temperature between 190-215 C.(374-419 F). Immediately, the roaster was filled with the seductive scent of excelso beans roasting to perfection. From time to time, he pulled out a selection of beans to check for desired color and scent. He cocked his head, listening for a distinctive cracking sound. Smoke quickly filled the roaster, a challenge for our lungs!
When the desired quality was reached, Jesús poured the roasted beans into a container and started a small fan to reduce temperature and clear the smoke. This took some time until the beans were cool enough to complete processing.
Jesús roasts 450 pounds of excelso beans each month. He is a busy man, whose time is spread among coffee buying, roasting, the shop, commercial sales, and education. And he does it because of his love of his region, the coffee growers, Colombia, and his vision to elevate Colombians' appreciation of their own major crop.
May he succeed. We noticed more and more Salento residents enjoying a good espresso or cappuccino each day, an indicator of success at the local level.