El Castillo de San Felipe de Barajas, Cartagena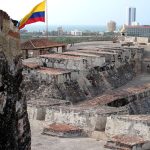 A Spanish for that was never taken? It did not take us long to find out why. According to the brochure, it was designed by a Dutch engineer named Ricardo. Built around the smaller original fort, Castillo San Felipe de Barajas covers an entire hillside, from the seaside to the land.
Today, it can probably be climbed by an experienced climber wearing Five Tennies stealth rubber soles, but imagine trying to climb the nearly vertical in leather soles…
One clever feature is a system of interconnecting tunnels, build with rounded corners. Sound travels so well that we were sure a lookout would have heard us coming even though we were tiptoeing along on rubber soles.
The cannons were laid out in batteries named after saints. Many cannons are still intact and in place. A fortress to be sure. The rounded tops of the fortress walls ensure that any kind of grappling hook not find purchase.
With a temperature of 91 degrees and a humidity to match, our favorite places of exploration were the tunnels and the keeps. Guides are available for a thorough review of the stories.