Get with "the beat" in Cartagena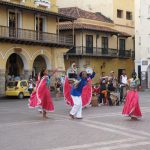 Coming from California, I often read in the media that we are not serious enough and are focused too much on having fun. The Beach Boys sang about Good Vibrations and we still enjoy them. (And, really, is that not the purpose of life?)
So…it is an awakening to be in Cartagena, on the Caribbean side of Colombia, and find out that good vibes can move up quite a few more notches!
At dinner in a local restaurant, the waitresses were dancing between customers. Children hear the beat and break into a few dance steps. Why walk up the stairs when you can do it to the beat?
On our boat trip to the Islas del Rosario (read our blog post on Islas del Rosario), as the guide was making an announcement, his feet were moving to the beat of the music. Walking to the wall around the city, travelers broke into dance when they were in earshot of a band or drummers.
If it feels good, do it! We Californias are way too restrained!