Hiking the Narrows | Zion National Park | Utah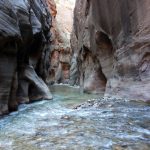 In October of 2011 the weather forecast for Zion National Park was favorable. The weather was in the low 80s for almost a week. Now was my chance to hike The Narrows, something I've wanted to do for a while. Something I failed to do on my last visit because of predicted rain and possible flash floods.
The Zion Narrows hike is an incredible adventure through one of the most spectacular gorges in the United States. The Narrows is a slot canyon and, in the section where the walls pinch in, the colorful canyon walls tower above the Virgin River.
At the time, I was in Las Vegas with my wife for a few days of relaxation. It is only a little over 160 miles to Zion from Vegas. So after our stay of fantastic four days in Vegas, we headed to Zion.
We arrived late Thursday afternoon. To our surprise the Zion campground was full on a Thursday! It turned out to be two days off for schoolchildren in Utah. Now what? We ended up camping in the rough in a forest-service area not far from Springdale, as recommended by a ranger. This was not too bad a solution for one night, although we sure missed running water and toilet facilities!
The next morning, we got up at the first light and rushed to the Zion campground and found a spot immediately. We quickly put up our tent and went into Springdale for a coffee at Café Soleil, a favorite coffee stop.
As soon as it was time for the opening of the backcountry desk in the Zion National Park Visitor Center, I headed there to secure a permit for The Narrows, absolutely required for the hike. I wanted to be sure to be there early because I knew that at certain times of the year a limited number of permits are available (http://www.nps.gov/zion/planyourvisit/walk-in-permits.htm). I felt pretty confident since I was the first person in line and I was successful in obtaining the $10 dollar permit.
The flow for the river was 67 cfs (cubic feet per second) when I applied, so I knew that condition was okay. The rangers will not issue permits if the flow is above 120 cfs.
Most people plan to take a two-day trip because it is a long, difficult hike. Rangers assign two-day hikers one of the eleven camp sites. I was assigned a small camp, number 5, because I was going solo.
Next, I needed to arrange a shuttle ride to the start of the hike at Chamberlain's Ranch. I used Zion Adventures and the cost was $29 dollars. (If you have a high-clearance vehicle, you can drive yourself but you need to come back to Chamberlain's Ranch to pick up your vehicle.)
Zion Adventures also rents the gear necessary for the hike, for example, canyoneering boots, neoprene socks, and a dry bag, which I reserved at a cost of $41 dollars. The dry bag went inside my pack with everything I needed for an overnight trip. I had a wetsuit with me but I could have rented one if necessary.
I spent the rest of this preparation day getting my gear ready and picking up last-minute food items. The best place in Springdale to get groceries is at Sol Foods Supermarket.
For a dinner treat, we decided to get a pizza at Flying Monkey, across the parking lot from Sol Foods Market. They have really excellent pizza and local beers on tap.
The next morning, I had to be at Zion Adventures an hour before my shuttle ride departure time so that I had plenty of time to pick up my rented gear and rearrange my backpack. Around 9:30, the driver arrived, ready to go. She looked over my gear and advised me to rent a second polypropylene top because the temperature of the water was 47 degrees. Not wanting to get chilled, I agreed.
I decided not to bring a stove and took only foods that needed no cooking. My meals would consist of nuts, jerky, Clif Bars, and three peanut butter sandwiches. Yum! This turned out to be fine for me but ultimately others need to make their decision based on personal tastes and dietary requirements. As it turned out, I kind of missed the stove because it was cold the night I camped and a warm drink may have been nice.
Once on the way, it took about two hours to drive to the trailhead, most of that time spent on a dirt road. I was surprised to learn that I was the only one going to Chamberlain's Ranch! I had not needed to rush for a permit and I knew right then that I would be isolated and on my own for the hike.
The trailhead was bare, decorated with only a few toilets. I walked on a dirt road for the first three easy miles. Knowing that I was on private land, I was respectful of the landowners and stayed on the road. The road eventually veered down to the river. This was where the fun began.
The river flow here was probably half of the 67 cfs so I decided not to put on my wet suit or canyoneering boots. I walked that first day in my Keen river sandals and shorts.
The canyon was wide when I first started out and slowly narrowed down. The hike through here was quite beautiful. In mid-October, the cottonwood trees were beginning to change I encountered the first real obstruction above Deep Creek where a huge logjam blocked my passage. I had to decide whether to swim a deep hole or try to climb over the logjam. Swimming would have meant putting on my wetsuit. I climbed over with much difficulty.
Not far downstream, I caught up with two other hikers, a man and woman. I was surprised to see anyone at all. I spoke to them briefly and continued downriver until I arrived where Kolob Creek came into the Virgin River. This amount of water added considerably to the flow of the river. The crossings became more difficult and the water swifter, deeper, and colder, often up to my knees.
It was starting to get late in the day, so I pressed on as fast as I could travel. I wanted to get to camp around four in the afternoon. My skin was feeling the colder air temperature and, walking in deeper water, I was starting to feel quite chilled. I still had not put on my wetsuit or boots.
I finally made it to camp number 5. I ate, put up my tent, and got into it as quickly as possible. I was starting to get really cold and just wanted to get into my sleeping bag. Once in my bag, I started to warm up.
I lay there thinking that the next day was going to be harder because most of the time I would be in the water. When morning sky brightened up, I grabbed my wetsuit and put it on in the tent. I was a little worried about getting cold. Once dressed, I broke camp and headed down the river. Once I got walking, I realized I was going to be plenty warm.
For the rest of the hike, it seemed like I just crossed from one side of the river to the other, using trails others has forged when they had crossed the river. As I made my way downstream, I had to go over huge rocks and under logs to avoid swimming in the cold river.
Once I passed Big Springs, I ran into two of the deepest holes of the river. The water was up to my chest. At one of those holes, I had to decide whether to swim or find a way to climb over a truck-sized rock that blocked the river. Miraculously, a woman appeared on top of the rock and helped me up. After that, I started seeing other hikers coming up the river just to explore The Narrows for one day of adventure.
At this point, the canyon walls really started to pinch in so I spent the rest of the hike walked in the river for the rest of the hike. The Narrows, or what some people were calling Wall Street, is a natural wonder. The red and white sandstone walls towered above me, reaching a thousand feet or more to touch the dark blue sky far above. This is what I had come to enjoy and found the energy to take a few pictures, many fewer than I had imagined I would take.
Orderville Canyon came in from the left. Once I passed it and started seeing even more people coming upstream, I knew I was finishing one of the most awesome hikes in the United States or perhaps even in the world.
When I arrived at the end of the river hike, I still had a mile to go on a paved trail to get to where I caught the shuttle bus to get back to the Visitors' Center. From there, it was just a short walk back to the campground and my wife. Other travelers were catching a shuttle into Springdale, another option at that bus stop.
If you are going to try this hike yourself, remember that this is a different canyon at different water flows. Make sure to get the latest forecast and other information from the backcountry office at the Ranger Station and also from local guides.
By the way, Orderville Canyon is a popular, easy yet technical slot canyon that runs into Zion Narrows and takes only a day from start to finish. This is a great option for those who do not want to stay overnight.
Getting There:
The best way to get there is to fly to Las Vegas, rent a car, and drive. It takes about three hours to drive to Zion National Park from Las Vegas. There are many places to stay in Las Vegas, ranging in price from expensive to a very reasonable price for a great room.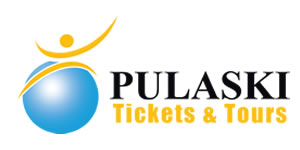 MerloTravel is an Independent Internet Agent for Pulaski Tickets & Tours