London – Changing of the Guard at the Horse Guards Parade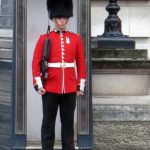 The Horse Guards Parade is well worth visiting. Located in Central London facing St. James Park, it was formerly the site of jousting and tournaments during the reign of Henry VIII. Plan to watch the Changing of the Guard and you may feel transported back hundreds of years, at least if you can avoid looking at other visitors! At 11:00 AM daily (10:00 AM on Sundays, this amazing free event is held. In addition, Trooping the Colour / Queen's Birthday Parade occurs at the same site annually.
We cannot imaging the degree of training and discipline that each horse or mounted guard goes through in order to participate. The ceremony follows a prescribed routine with the old guards being replaced with the new, and all involved move with a perfection seldom seen today. When the Queen is in residence, 17 guards make up the force, with 12 used when she is away. The Guard and their horses stood nearly motionless for a good portion of the event, looking proud and also devoted to their tasks.
Our video Changing of the Guard at the Horse Guards Parade covers a portion of the ceremony.