Medellin – El Peñol / Marinilla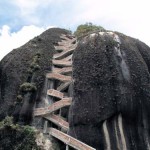 Because we enjoyed Medellin and its people so much, we decided to take a trip into the countryside of  Antioquia and visit the 200m (nearly 660 feet) solid rock ridge near the artificial lake / tourist area of Embalse de Peñol. We planned to take the stairs up to the top of the rock for the view of the surrounding area.
We took the subway to the train station and, thanks to the helpfulness of local people, were directed to the bus and on our way. The open country with its many farms was a welcome change from the city. One prominent business was greenhouses, often simply sheets of plastic over wooden ribs, in which flowers were grown for local trade and also for export. Some of these looked abandoned while others seemed to be flourishing. We wondered if imports were down partly because the US economy was in a tailspin in April / May of 2009.
On the road, we saw quite a few cyclists with high-tech bikes and clothing. Having read that Lance Armstrong and others were training in the area, we wondered about the identity of the riders tearing down the steep roads! John, who does 100-mile rides, was checking out the territory with an eye to returning with a bike.
Once we reached El Peñol, we were pretty disappointed. Although a few people were going up the stairs, it was pretty evident that part of the stairway had collapsed and a temporary repair had been installed. Although we do hike some fairly technical trails in the Grand Canyon and in California's Sierra Nevada mountain range, we decided not to take the challenge. At the start of a 3 ½ month trip, risk-taking was out of the question. Without the climb to the top, there is not much to do. Many young men asked us whether we wanted to go down to the lake and rent a cabin (no) or a boat (no). We did have lunch which once again features the unique cooking of Antioquia with its delicious round beans and sausage. That completed, we decided to leave.
Easier decided than done. We had two hours until the next bus so decided to walk down the hill and look for a local bus.
What we found instead was a local man who insisted we should ride with him for 20 times the bus fare—each! With no place to go at the bottom of the steep road, we were soon tired of him trying to convince us there were no other choices. Fortunately, a taxi came along and, although the driver had an elderly woman as a passenger, he saw our plight and offered us a ride—all the way to Marinilla!
He was a careful driver and, once he realized we loved to take pictures, stopped at picturesque scenes so we could photograph them. His passenger did not mind. Once we arrived in Marinilla, we had to convince him to take some money as a thank you. We were left off about a kilometer from town and given detailed directions on the best streets to take.
We passed a school playground full of happy children playing, a few cafes, and even an autobody shop whose owner was restoring a 1950's Mercury automobile. That car looked fabulous!