Medellin – Jardin Botánico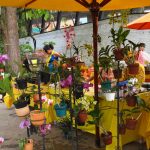 One of the reasons we had rushed from Cartagena to Medellin was to view an orchid exhibit at the Jardin Botánico, an exhibit the Lonely Planet guidebook said was held in March and April in the garden's Orquideorama.  We headed for the Orquideorama soon upon our arrival only to find that the garden employees were baffled by the thought of an orchid display at this time. Turns out it was held in August, according to the website of the American Orchid Society. Fortunately, the garden is very beautiful and well laid out, making the trip well worth it. Plus, we at least saw a few orchids that were offered for sale and stunningly beautiful anyway!
An event was being featured at the Orquideorama, a presentation by schoolchildren focused on respecting their elders. Not having tickets to get in, we managed to peek through the fence to enjoy the singing and dancing and the children's (and adults') delight. We caught several excellent songs and cultural routines.
Touring the shaded garden was a refreshing contrast to the high temperatures we had experienced in Cartagena. Even at an elevation of nearly 5000 feet above sea level (1500 meters), the daily May temperatures in Medellin were in the high seventies and low eighties, sometimes a challenge for two Northern Californians used to San Francisco fog! Frequent changes of clothing continued…
Renewed in 2005-2007, it is a true getaway from the beautiful yet crowded city of Medellin. Featuring more than 500 species of trees and plants, a small lake, a herbarium, a beautiful restaurant, and spacious meeting rooms,  the Jardin is well worth a visit. Even yoga is available some days of the week! Because education is a primary emphasis, the many ornamental plants are usually identified and are laid out with sculptures, fountains, walkways, shaded areas, and areas for sitting and viewing. Even the trees seem to be situation just right to provide the needed shade for the plants below them. Carefully tended, the plants are in excellent condition and enjoyable to learn about. And, since scientific studies are underway, there are always new things to learn about this tropical paradise.
When you go, be sure to pick up the literature available because we did not see it when we first arrived and ended up backtracking in order to visit some areas we later saw on a map we were given.
One of the prettiest areas was around a reclining statue of a male god-like creature that was surrounded by bright, flowering plants and water. We were not the only ones who tried many different framings and angles to try to capture the spirit and beauty. You will find our best results below!
The store, or Tienda del Jardin, is also a delight. Although our motto when backpacking it, "You buy it, you carry it hundreds of miles," we bought skincare products made from brazil nut oil and also books for the grandchildren. The tienda staff members were incredibly helpful. Our Spanish dictionary did not include the vocabulary necessary for a review of ingredients in the skincare products so a delightful young woman went online and on the phone to answer our questions. We appreciated this very much and enjoyed chatting with her. Plus, another employeed verified there was no orchid exhibit but that there were orchids for sale at an outdoor booth.
Our regret was that we could spend only one day there.
If you want to read about El Jardin Botánico before you visit it, here is the link: http://www.botanicomedellin.org/. (5/2009)