Quindío – Coffee Cultivation and Free Trade vs Fair Trade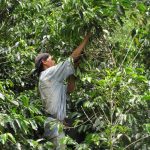 Coffee cultivation is demanding, with best practices passed along from generation to generation in Colombia. The department of Quindío, the smallest of Colombia, is perfectly situated for coffee growing. With the ideal altitude, soil, climate, and a location close to the equator, the fincas produce the majority of coffee grown in Colombia.  And Colombian coffee is prized around the world.
In the past, there was a loose organization of coffee growers that make the crop profitable. Today, however, coffee prices are set in New York City and the growers receive minimal financial reward for their efforts. Because the fincas have been passed along in the same family for 3 or more generations, the traditional practices are passed along to the next generation. Coffee has been a staple and was a major contributor to the infrastructure and local economies in the past.
But today, the fictional character Juan Valdez appears to be one of the few optimistic coffee cultivators. Unless the family supplements the coffee crop with bananas, fruits, corn, and animal husbandry, not enough money is made to nourish the family. Partly because of this economic situation and partly because of the draw of city life, the younger generation is leaving the small towns and the fincas, leaving aging parents to work the fields as long as they are able and willing.
As long as most growers sell to the international federation at dictated prices, the network of small coffee growers will continue to deteriorate. Free trade is designed to keep crop prices low, ensuring a profit for the National Federation of Coffee Producers, not for the small, local growers. Fair trade is something entirely different, ensuring that the Colombia growers receive a fair price and that their coffee retains some of its quality and individuality.
When you purchase coffee at your supermarket or international espresso bar, you might ask yourself if you are supporting free trade or fair trade. Is your purchase helping the Colombian coffee-growing family or … is it helping  a huge corporation that ensures they alone profit? Perhaps it is time to look for independent coffee roasters who import directly from coffee growers, often naming them right on the label. It may cost a bit more, but it is fair trade. Plus, it encourages the younger generation to learn the trade and continue to produce quality coffee because they can earn a living.
Quindío Colombia.