Gold Coast Hotel and Casino | Las Vegas Hotel Value
Somewhat off The Strip, the Gold Coast Hotel Las Vegas proved to be very convenient, comfortable, and affordable on our October 2011 Las Vegas visit. Recently remodeled, the rooms are well appointed and in excellent condition. In fact, our room there was greatly superior to the much more expensive room at the Anaheim Hilton where we had stayed the previous night.
In addition to a comfortable bed and spacious bathroom, the Gold Coast Hotel and Casino offers a shuttle to Bill's Casino in the heart of Las Vegas Boulevard, often called The Strip. We were dropped off right by Bally's, Paris Las Vegas, Caesar's Palace, and within easy walking distance of many excellent shows, including many by Cirque du Soleil.
Mornings can be relaxing at the Gold Coast Hotel and Casino when you enjoy breakfast and then go to the swimming pool or the small gym for some exercise. Not too many were lap swimming so there was plenty of room in the pool. The sun seemed to linger in the afternoons so the large array of lounge chairs was much appreciated.
With all the excellent food available, body movement is definitely called for. TGI Friday's offers a varied selection of meals, including breakfast, and Kate's Korner Deli and Ice Cream provided a variety of ice cream flavors that we enjoyed after the 80-degree outside temperatures. We did not try all of the restaurants but did also enjoy Ping Pang Pong, the Chinese restaurant whose menu offers an array of dishes in Mandarin, Szechuan, and Cantonese styles, among others. Dim Sum is available at certain times of the day.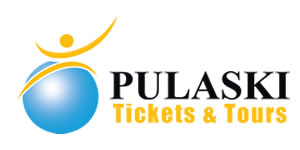 MerloTravel is an Independent Internet Agent for Pulaski Tickets & Tours