Villa Vieja and El Desierto … It looked so simple on the map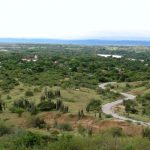 We were pretty sure we had figured out a flaw in the Lonely Planet's travel guidebook to Colombia. A couple of weeks earlier, we had wasted half a day in our travels from Medellin to Salento by going all the way to Pereira, the recommended transfer point, waiting for a local bus, and traveling back on the same road to the turnoff to Salento. Local residents had known the routine and had changed buses at that intersection on the way in. We had lost time by sticking to the guidebook. Never again!
On our journey to Villavieja, the map showed a route from Aipe to our destination Villavieja. No need to waste hours going to Neiva and then back to Aipe so we could go on to Villavieja. Ha! We would not be fooled again!!!
We asked our bus driver to let us off at the intersection to Aipe and, looking surprised, he asked, "Aipe?" We shook our heads "Si!" and another passenger, who appeared to be a charming and educated man, added in English, "I think I had better get off with you and help you. It is my duty." He mentioned that he had visited Villa Vieja himself and had enjoyed camping in the Tatacoa Desert (our destination – a rare tropical desert) and viewing the stars, not only from its observatory, but also from his campsite.
Should we have taken these reactions as a signal that things were not as we assumed? Probably, but we did not. The gentleman, who introduced himself as Emilio, collected his bag and descended with us. From a high spot on the road, he pointed to a distant church tower surrounded by trees. "Villa Vieja." It did not seem that far away.
It was perhaps a kilometer into Aipe, a small, quiet village. The taxi we had expected did not materialize and my backpack and daypack grew heavier by the moment. When I packed it, I really had not planned to walk very far with it fully loaded. Pleased when a resident offered us a bench under his shade tree, I grew a little uncomfortable when our voluntary guide asked how we might go the remaining distance to Villa Vieja. The details were hard to follow in Spanish.
Rested, we walked to the center of Aipe and our guide inquired again about how best to get to our destination. A young man who had been trying to sell us trinkets announced that he had a cousin who had a boat… Boat?? Our rudimentary map had not shown the river between Aipe and Villa Vieja, the Rio Magdalena, the major river of Colombia. Major meaning wide and, well, serious.
Just a short distance to the cousin's home, we were assured. Short meaning about a kilometer and a half across a marshy pasture, stepping on logs and branches, even an old boat, to pass through the wetter areas. For balance, we had to hang onto a barbed-wire fence.
Once we could see the river, it did not look as wide or deep as we had understood. That was a relief. About ten minutes later, the cousin appeared and negotiations commenced. It was not just a matter of three people to Villa Vieja, but also a trip back somewhat later for our volunteer-guide!
The boat was fairly typical for the area, flat bottomed, wide, and long. The motor looked good and there was plenty of room for all of us and our numerous packs. Getting in while keeping balanced was a bit of a challenge while handling the packs but luck and the boatman's good technique came to our rescue. Fortunately, the distant bank did not look all that far.
The boat started down the river and, surprise, surprise, we went a few hundred yards downstream rather than straight across. That's because we were on a tributary! Once we hit the main Magdalena, the boat trip looked a lot more serious. Again, thanks to our skilled boatman, we arrived safely upriver at the landing spot where we made a steep climb to the road. Again, we had a pretty good walk to the center of town and our nearby lodgings. More exercise than we had planned!
Luck was with us; the hotel restaurant had a good supply of cold beer that we all enjoyed. Emilio called his wife to let her know he would be home late, We offered to buy him dinner but he was anxious to get back across the river(s) before dark. (Because we were so close to the equator, our 12 hours of sunlight were due to end at the usual time of 6:30.)
We absolutely could not have done this leg of our journey without the help of Emilio, a modern Good Samaritan. And this was not your average Good Samaritan; he had attended college in the United States and graduate school in Europe. He was employed in the health industry and had a vast knowledge of what constituted wellness. What great luck for us that he volunteered to guide us.
And, when we left Villa Vieja several days later, we paid for a ride to Neiva. But that is another piece of delicious travel gossip.