London, Rotherhithe Village – Mayflower Pub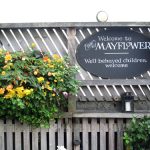 A must-visit for Americans, the Mayflower Pub is said to be the oldest pub on the Thames. Once they learned that we were from the States, several  Londoners recommended that we visit it. They themselves enjoy the Pub regularly not only for its history but also the excellent food and drink. Check it out! You will be glad you did.
Before you go: There are a few tables available on the jetty over the Thames and we recommend them highly, in good weather, of course.
My husband and I had learned in our elementary-school history books that, in 1620, the Pilgrims left Plymouth, England, bound for America. History shows that their captain, Christopher Jones, lived in Rotherhithe Parish. It is believed by many that the Mayflower docked at the pub, in order to avoid taxes, and left from there to pick up more Pilgrims in Plymouth.  They then set out on their extremely difficult and dangerous voyage.
The original 15th century pub from which the Pilgrims would have departed, The Shippe, burned down in the 1600's and the one we enjoy today was built a short time later at the same location. Inside and out, it is a classic British pub, complete with darkened beamed ceilings and an exterior worthy of the trade of Shakespearean characters.
At The Mayflower, thinking that we had become somewhat educated about British beers, I ordered a bitter only to be asked, "Which one? We have eight on tap…" I had considered myself fortunate to find even one on tap at most American pubs! The menu offers a good selection of excellent pub food, including a cheese plate if you are there in mid-afternoon.  And, should you be fortunate to visit London at Thanksgiving, a full turkey dinner is served! Reservations are necessary for such special events.
How to Get There: The easiest way is by underground with a switch to the Rotherhithe train. Train stations near the pub include Rotherhithe, Canada Water, and Bermondsey. If you enjoy walking, we strongly recommend walking along the Thames from Tower Bridge underground station. It is fairly long, perhaps 2-3 miles, but travels through old and newer neighborhoods. The walk meanders along the beautifully restored bank of the Thames and there are plenty of places to sit and rest for a few minutes. Boats and ferries also stop there. (Before you set out on your walk, do explore the Borough Market on Southwark Street!)
Additional Information:  http://themayflowerrotherhithe.com/
Sandra, October 2013
Slide images of the Mayflower Pub