Salento, Colombia – Organic Farming at the Plantation House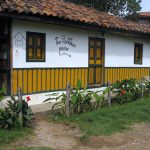 One of the goals of Phil and Chris at the Plantation House is to grow the vegetables, fruit, coffee beans for the use of the family and guests. The farm already produces delicious coffee that is roasted and brewed for travelers and also available for purchase. Pineapples and other fruits grow near and among the coffee plants, offering their shade for the best crop.
Running along the base of the hill on which the coffee plants grow is a wide swath of bamboo. It has several uses. First, its roots purify the ground water, making it ideal to water the crops. Second, the bamboo is used as for building. Harvested at night during the new moon, the bamboo stalks contain little water and will last as long as fifty years. In the accompany pictures, you can see where bamboo has been used in a farm building.
Once a coffee plant has stopped producing, its wood is harvested and made into quirky furniture such as this … coffee table! Now that is ironic, yes?
Freddie, manager of the coffee farm, offers tours to travelers who stay at the Plantation House. He is an expert at traditional growing techniques and combined them with modern methods for the best of both worlds.